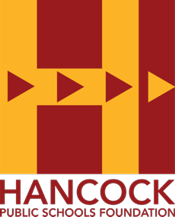 Established in 1987, the Hancock Public Schools Foundation receives and distributes funds for charitable and educational activities that assist in the development, implementation or maintenance of programs that significantly contribute to the education of Hancock Public Schools students. The Foundation is a registered IRS 501 (c )(3) organization. All contributions are tax-deductible to the full extent of the law.
Focus on Funding
The latest issue of our newsletter is now available! Click here to download and read about the Hancock Public Schools Foundation's support of our schools.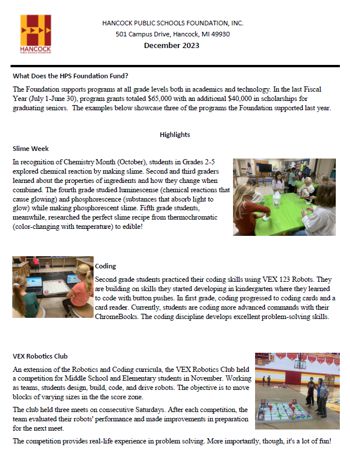 Did you know?
The Foundation awards grants that support classroom learning in all three schools in all disciplines, and upgrades to technology that provide the best available tools.

In addition, each spring the Foundation awards scholarships to graduating seniors, both college-bound students and those pursuing a trade.

The Board of Directors is comprised of volunteers who care deeply about our students and their learning opportunities. The Board meets quarterly to consider grant requests. Are you interested in joining this group of committed volunteers? Contact Executive Director Sara Niemeyer at hpsfound@gmail.com for more information.
Make Your Gift Today
Your support of the Hancock Public Schools Foundation truly does make a difference! Programs and scholarships giving students the best possible opportunities are achieved through the generous contributions of people like you. Thank you!
or click here to download a donation form to complete and mail.
2023-2024 Board of Directors
Neil Ahola, Vice President
Michelle Blau
David Dow, President
Anthony Fisher, Treasurer
Michael Hauswirth
Monica Healy
Kevin Kalinec
Paula Nutini, Secretary
Rod Paavola, Board of Education Rep.
Chris Salani, Interim Superintendent
Dennis Walikainen
Dean Woodbeck
John Vaara
For Your Information
The Hancock Public Schools Foundation Board of Directors meets quarterly on the fourth Wednesdays at 6:00 p.m. The first meeting of the fiscal year (July 1 - June 30) is preceded by the Annual Meeting.

Other Documents:
Grant Request Form